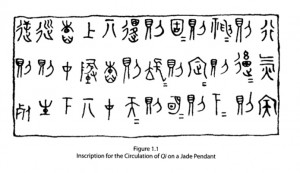 To guide the Qi, allow it to enter deeply and collect it. As it collects, it will expand. Once expanded, it will sink down. When it sinks down, it comes to rest. After it has come to rest, it becomes stable.
When the Qi is stable, it begins to sprout. From sprouting, it begins to grow. As it grows, it can be pulled back upwards. When it is pulled back upwards, it reaches the crown of the head.
It then touches above the crown of the head and below at the base of the spine. Who practices like this will attain long life. Who goes against this will die.
Reference: Sitting in Oblivion – The Heart of Daoist Meditation by Livia Kohn 2010 Se also The Jade Tablet neigong.net