Somebody once recommended Gohyah or Goya Tea for my common cold. And miraculously it worked!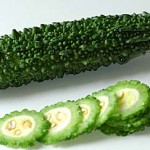 I have been testing this Bitter Gourd, or Bitter Melon as it is often called, on myself and friends. The plant is known throughout Asia for its excellent qualities in cooking, health and sickness prevention (lung disorders, cancer and diabetes etc.). The chinese claim that the bitter curd is vital to health. The bitter taste is balancing the other tastes ( sour, pungent, sweet, salty ). Gohyah is included in famous recipes in TCM Food- or Dietotherapy.
Tea: Slice the Bitter Melmon ( or use try Bitter Gourd ) and purr with boiling hot water. Wait 5 min.

Soup: Slice the Bitter Gourd and boil with 150 gr. pork and you have a wonderful soup.
More uses and info on wikipedia.org: Bitter Melon